Evospine MIS pedicle screw is an all titanium implant (Ti6Al4V) with solid MIS tabs on the tulip. The all-in-one screw is approved by the market since 2014 and has an extra long reduction thread to correct severe spondylosisthesis and poly-or monoaxial designed.
Every evospine MIS pedicle screw is sterile, single packaged, cannulated, augmentable and offers highest hygiene standards.
All screws are multifunctional and suitable for trauma or degenerative cases.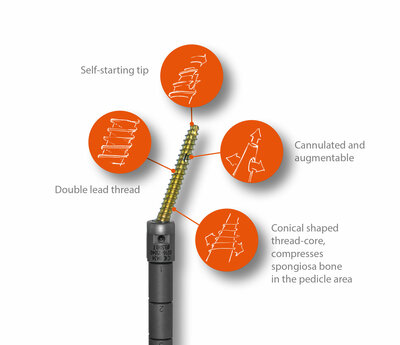 Fast and simple application

Multifunctional all-in-one screw

Cannulated and augmentable

Hygienic due to sterile, single packaged

Clinically proven since 2014

Conical shaped threadcore, compresses the spongiosa bone inside the pedicle area
Available with extra long tabs

In combination with BAMBOO instrument set